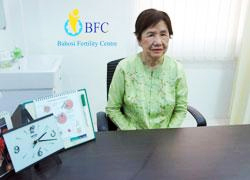 M.B., B.S(Ygn), M.R .C.O .G, F.R .C.O .G
Dr Mya Mya graduated from Institute of Medicine (1) Yangon in 1956 with an honour in Obstetrics and Gynaecology (Ob-Gyn) and a gold medal for attaining first in that year. After one year of internship, she joined government service as a Civil Assistant Surgeon. The following are her service records:
• 1957-1966 - Civil Assistant Surgeon 3th
• 1966-1976 - Consultant Ob-Gyn at Central Women's Hospital (CWH) ,Yangon and Senior Lecturer in Institute of Medicine 1(IM-1),Yangon.
• 1976-1986 - Professor of Ob-Gyn, IM( 1 )Yangon and Senior Consultant at CWH.
• 1986-1988 - Professor & Head, Institute of Medicine( Mandalay) and Senior Consultant at Mandalay General Hospital(MGH)
• 1988-1993 - Professor & Head (Ob-Gyn), IM-1, Yangon . Senior Consultant Ob-Gyn, CWH. Then retired from government service.
• 1993-1994 - Advisor to the Ministry of Health in Maternal and Child Care (MCH)
• 1994-1998 - Consultant (Part-time) In UNICEF for Breastfeeding Initiatives in Myanmar.
• 1993-2009 - Private Practice
• 2001-till now - Dhamma Teacher in S.N. Goenkaji's meditation centres in Myanmar ,also comprising Social Welfare Centres as the HIV Positive Centre, Juvevile Retention Centres, Insein Jail,High schools etc.
• 2003-2009 - Established the Bahosi Fertility Centre with colleagues and the first couple (my clients) delivered the First IVF Baby in Myanmar on 26th August'2007.
• 2012-now - Voluntary work for Monastery Education for orphans.
Achievements ......
1• Twenty four articles (Ob-Gyn) in Myanmar Medical Journals
2• Five foreign publications (M.Ed .Sc.) in News letter for medical Education and Research  University of New South Wales , Australia.
3• One article in Singapore Journal of Ob-Gyn.
4• Two Seperate books in Myanmar
     - Care During Pregnancy
     -  Women and Diseases
5• One book in English "Learning Module on Educational Science for Teachers of Health Personnel" in collaboration with three other authors.
6• Many articles in Myanmar Newspapers and Journals on Health Education.
7• Fugitive Literature (18 in no.)
8• Books, articles, Pamphlets. Instructional manuals and pictorial Publications for Baby Friendly Initiatives & allied Initiatives such as Baby Friendly Clinic and Home Delivery Initiatives
Research ......
Several studies performed. Some published some not. Latest research study was "Effect of Vipassana meditation towards behavioral and Social Changes among inmates of Insein Prison,Yangon". The results have been published .(2009)
Social Services ......
Worked in many Voluntary organizations such as Myanmar Medical Association (MMA), Myanmar Maternal and Child Welfare Association (MMCWA), Myanmar Women's Sports Federation (MWSF), All Myanmar Badminton Federation, All Myanmar Women's Association in different capacities. Also worked with WHO and UNICEF. Also worked at several voluntary social & medical clinics; now working with orphans at the monestry Education System in Bahan, Yangon.
Final Achievements ......
1• Reputed as a good Teacher and a compassionate Healer.
2• Introduction & establishment of Medical Educational Science in the medical Institutes of Myanmar (with colleagues)
3• Established the Baby Friendly Practices in hospitals, Clinics and home deliveries in Myanmar (with teams)
4• Established the Bahosi Fertility Centre, the First and only IVF Centre in Myanmar (with colleagues)
5• Introducing Vipassana into the prison system(with Teams)
6• Founder member and Partner of Pioneer Services International Company which include the Bahosi Hospital and Bahosi Fertility Centre.