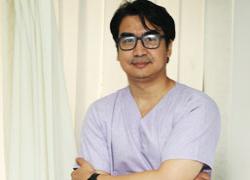 Fertility Specialist with special interest in male factor
M.B.B.S, M. Med Sc (Obs:&Gynae:) MSc(Reproduction & Developent) Bristol,UK
Dr Nyan Coe completed his M.B, B.S degree in 1999, from university of Medicine (2) Yangon. He obtained his post graduated qualification M.Med.Sc (O.G) in 2005. He served as a medical officer, specialist, Obstetrician/lecturer, Gynecologist   in the government  services for 12  yrs .During  which  he focused  on his special  interest   in the field  of  Reproductive  Medicine. After  retirement  from government  services, he  joined the BFC  as a specialist  O.G  in 2013.Also  he went to Thailand and  Vietnam to gain fertility  training  in ART.
He is a hard working, doctor and always deal with his patients empathetically.
Nowadays, male factor  account  for 35%  of all  causes  of  infertility, his current  research  interest  focus  on  Andrology. Moreover, he is also a member of ASRM to promote his continuing academic career.
Ph: +959 255055204
Email: [email protected]