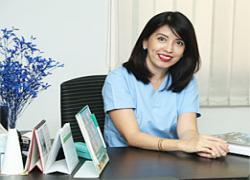 Fertility Specialist
MBBS, DFFP(UK),
FRCOG(UK)
Dr May Thu Myo Nyunt completed her undergraduate degree from Institute of Medicine 1 Yangon in 1990 with an honor in Obstetrics and Gynecology. After her year of internship, she went to United Kingdom to pursue a postgraduate training in Obstetrics and Gynecology.
She completed 3 years of Obstetrics and Gynecology training at City Hospital Sunderland, Leicester General and Leicester Royal Infirmary Hospital. She also did an elective year in Neonatology at the busy unit of Leicester Royal Infirmary.
She then earned her MRCOG degree in the year 1996. Since her return to her home country in 1997 she has been practicing at various famous private hospitals in Yangon. She always had a special interest in Reproductive Medicine and was aware that there was limited facility to offer to patients in Myanmar during that time.
After observing many fertility units in South East Asia, and gaining further training in the area of Assisted Reproductive Techniques, she and her colleagues set up Bahosi Fertility Center from scratch in 2006. Within a year, setting up the lab, training and staffing were completed and BFC become well known as the one and only IVF center serving in Myanmar.
Dr May Thu Myo Nyunt is a very compassionate doctor and her good relationship with patients is praised and acknowledged by others. She takes pride in providing outstanding, personalized care in each couple, working closely with her team. She was admitted to Fellowship in Obstetrics and Gynecology by Royal College of Obstetrics and Gynecology in the year 2008. She is also a member of the American Society of Reproductive Medicine.
 
Achievements ......
• First IVF baby of Myanmar in August 2007
• First IVF baby of Myanmar in August 2007
• First ICSI baby of Myanmar in July 2008
• First TESE baby of Myanmar in December 2008
• First FET baby of Myanmar in September 2008
• First Blastocyst baby of Myanmar in May 2010