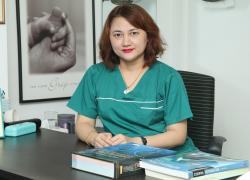 Consultant Obstetrician&Gynaecologist with special interest in minimally invasive surgery!
M.B;B.S,M.Med.Sc( Obs:& Gynae:) M.R.C.O.G
Clini Hour: Tuesday to Friday- 10:00am to 12:00 Noon
Dr Mya Pwint Phyu got her MBBS degree from University of Medicine (1), Yangon in 2004. She completed her 3 years of post graduate training in Central Women's Hospital, Yangon and got her M.Med.Sc (O&G) in 2011 from University of Medicine (1). She worked in government service for over 7 years.
She left government service in 2013, since then she joined Newcastle University Medicine Malaysia at Johor Bahru, Malaysia till April 2017. She worked as an academic clinical Lecturer and got a chance to involve clinic job at the Hospital Sultan Ismail, Johor Bahru where her students attached for their clinical training. 
Meanwhile she finished her certificate of Medical education from Newcastle University (UK) in 2014 and passed her MRCOG exam from UK in 2016 and also finished Fellowship in Higher Education Academy (UK) in March, 2017. 
Her special interest is fertility and laparoscopic surgery. Before coming back to Myanmar, she completed her fellowship training in Laparoscopy and fertility under supervision of Dr Selva Supermaniam in Mahkota Medical Center, Melaka, Malaysia who is the past president of Asia Pacific Association of Gynecological Endoscopy and also well known Laparoscopic surgeon and fertility specialist in Malaysia.
She has been practicing at various famous hospitals in Yangon after coming back to Myanmar and joined Bahosi Fertility Centre in November,2017. 
Dr Mya Pwint Phyu is enthusiastic and hardworking as well as in a good relationship with her patients. She is currently helping ladies with gynecological problems by minimally invasive surgery (keyhole surgery) as well as open surgery before undergoing IVF treatment to optimize outcomes of IVF.
Contact Number:  +959 5056991
E mail: drmyapwint@gmail.com